Monbeg Heartbeat (SOLD)
Lindor is truly a star in the making. He moves like a dressage horse and jumps like a showjumper and is as brave as a lion. Fiona handed over the reins to Lindor to good friend Imogen Murray in 2019 whilst she was pregnant. Imogen loved him from the first day she rode him and has now bought him. This partnership will definitely be one to watch out for in the coming years. We wish them every success.
Hamilton III (SOLD)
Hamilton was bought by Fiona as a 6 year old in the view of taking him to Le Lion as a 7 year old. Fiona fell pregnant and handed over the reins to Imogen Murray who did a fantastic job with him and he was selected to represent GB at Le Lion. He has now been sold to Jess Mckie and I wish them all the success for the future.
Fernhill Adventure (SOLD)
Bought by Fiona out of Ireland and produced up to intermediate. He had many top placings, including winning the novice at Eridge and being placed in a CIC*. He didn't have a single showjump down in 2012. Sold to Aoife Clarke who had some outstanding results on him in 2013 including coming second at the 7 yr old World Breeding Championships in Le Lion, second at the British Novice Championships at Gatcombe. He was rarely out of the placings. Michael Jung did everything in his power to try to buy him from Aoife at Le Lion, but with no success!! He is now her top horse and competes at CCI****. He was selected to represent Ireland in the World Equestrian Games in 2018
Cooley Top Cat (Sold)
Cooley Top Cat was bought by Fiona's father as an unbroken 3 year old, He was a seriously flash horse, who moved like a dressage horse and jumped like a showjumper and on top of that was brave. He has was spotted by Piggy French, who managed to find an owner to buy him half way through his 7 year old year in 2015. They have had some amazing results winning half of all his starts in 2015, jumping a superb double clear to gain 6th at the 7 year old championships CIC**. She said that he is a serious 4* horse and would be doing him an injustice if she didn't get him there. So we wish them all best and hope they achieve this goal.
Uppercourt Cooley (SOLD)
Bueno was bought in Ireland at the end of his 4yr old year, having just been broken. He has fantastic movement and a jump to match. He is a laid back character who seems to take everything in his stride. All the ingredients to be a world class horse! He had a very successful 5yr old year campaigning BE100. He was spotted by Emily Baldwin whilst out cross country schooling. She managed to find an owner to buy him and has consequently gone out and won her first two events on him. He is definitely a horse for the future and we wish Emily all the best with him.
Kilroden Sailorette (SOLD)
Truffles was spotted for her serious ability over a fence at the Go For Gold sale in November 2014. Once home she was snapped up by one of Fiona's liveries who wanted his son to showjump. He rode her throughout 2015. He then started boarding school which meant he didn't have the time to put into her and decided to sell her. Fiona was able to take over the ride until she was sold. She has the most amazingly careful and scopey jump, jumping double clear around every event Fiona took her to (14 in a row) and in her first 1.30m. She has now been sold to Nicky Hill who has formed a super patnership with her and amased some amazing results, including winning the Hickstead eventers challenge in 2019. I am sure they will continue to do fantastic things together in the future.
In The Darco (SOLD)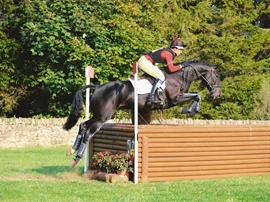 Bought by Fiona as a 4 year old in Ireland, produced up to intermediate level, gaining several top placings at Novice level and some good CIC* results. Sold to Kate Rocher at the beginning of his 7 year old year and has been competing successfully ever since.
Sumas Cooley (SOLD)
Sumas Cooley was sold to Kyle Carter who is based in America. They have just sucessfully completed their first CCI* together and hope this is the first of many International runs together.
Carlos (SOLD)
Bought by Fiona at the beginning of his 4 year old year. He produced some fantastic results throughout this year, finishing on a 20 at Burnham Beeches and 7th in the Lycetts 4 Year old Championships at Osberton. He was sold shortly after that to Karen Stone. Karen only competes at the lower levels so he is showing her how easy he finds it at this level proving to be an invaluable schoolmaster for her.
Monbeg Alcatraz (SOLD)
Dave was bought by Fiona as an unbroken 3year old. He then stayed in Ireland and was campaigned by Thomas Doyle and qualified for the 4 year old jumping final in Dublin. He has now been sold to Fiona Harris who has said he is one of the best horses she has ever sat on. Watch this space this horse will definitely win a 5* one day.
IPW Jazzmaster (SOLD)
This horse was bought on Fiona's first visit to Ireland. He was 6 years old and had competed lightly in Ireland. He was a super little horse who produced some great novice results and jumped double clear in his first intermediate. He was sold to a German rider shortly afterwards.
Blaze of Charm (SOLD)
Teaser was sold to Katerina Midgley who is based in America. He was one of the kindest horses Fiona has owned. She along with most of her liveries had a real soft spot for him and loves keeping up with what he is up to. Katerina has formed a great partnership with teaser and is successfully competing stateside.